Topic: Meet the family
After curing my last bout of GAS I promised to post a piccie of the new Takamine Jumbo so here it is along with the rest of the family and shot of our little cottage from the other side of our lake. Hope you like 'em.
So to kick off here's the new Takamine. As you can see it's a big Jumbo, it has a great tone but is very unforgiving, you've got to be accurate but the payoff is the tone. Great looking guitar I think, it's EG523SC, solid spruce top with a flamed maple back and sides. Lovely.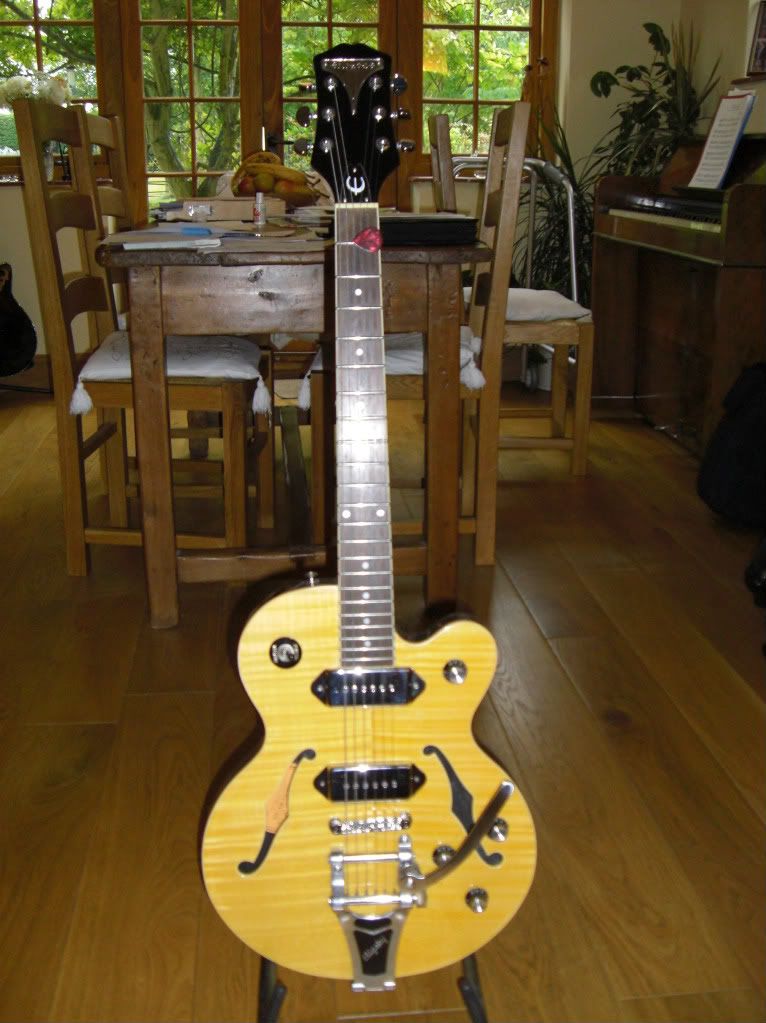 Next up is my Epiphone Wildkat. I bought this guitar simply because I loved the look of it, bigger than a Les Paul and smaller than a 335 with a real 50's rock n roll feel. I don't really get on with big necked guitars but I just couldn't resist it!
I know people either love them or hate them and they've gone out of fashion over the last few years but I love my Ovation. It's my go to guitar with superb playability, a nice tone and a superfast action. Great guitar at a great price!
I think everyone should own one. This is a Japanese built Tele that is just fantastic to play. The autograph is that of country legend Albert Lee who I was lucky enough to jam with when he was playing in the Hot Band with Emmylou.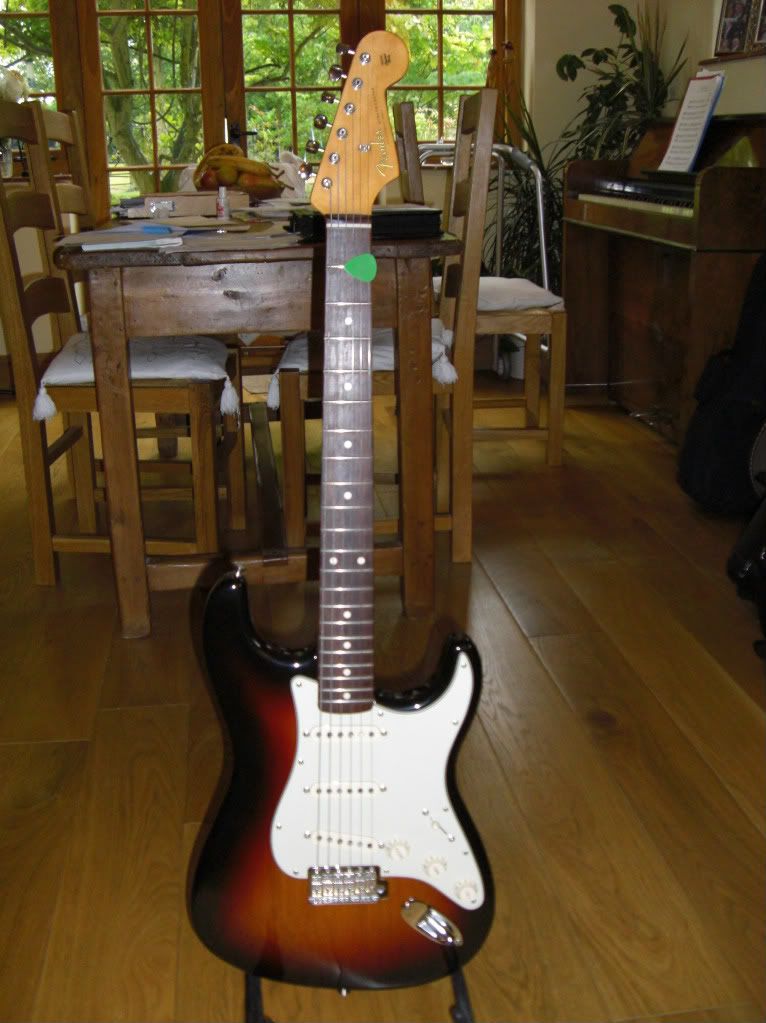 This is my Mexican classic 60's Strat. The world's only do it all guitar and I don't think you can beat the classic burst finish. I bought this after playing it back to back with a US Strat and finding that the Mexican guitar was better finished, sounded better and was £400 cheaper! It takes a bit of setting up though so it spends quite a lot of time at my luthiers in Brighton.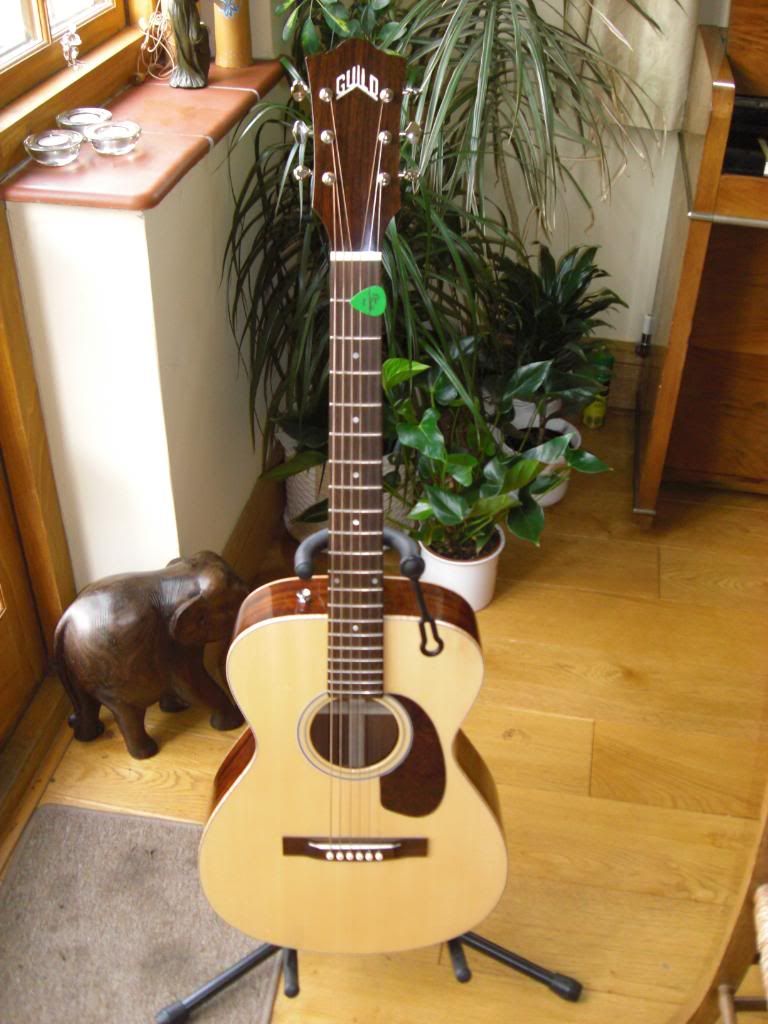 Some of you will have seen this before. My little Guild Parlor GAD F20. A very simple guitar with an amazing tone. It makes me smile every time I open the case and still makes me go "Wow" every time I strum it. I have no idea how Guild get the tone they get out of such a small bodied guitar. Fairy dust? Magic? Whatever it is long may they continue.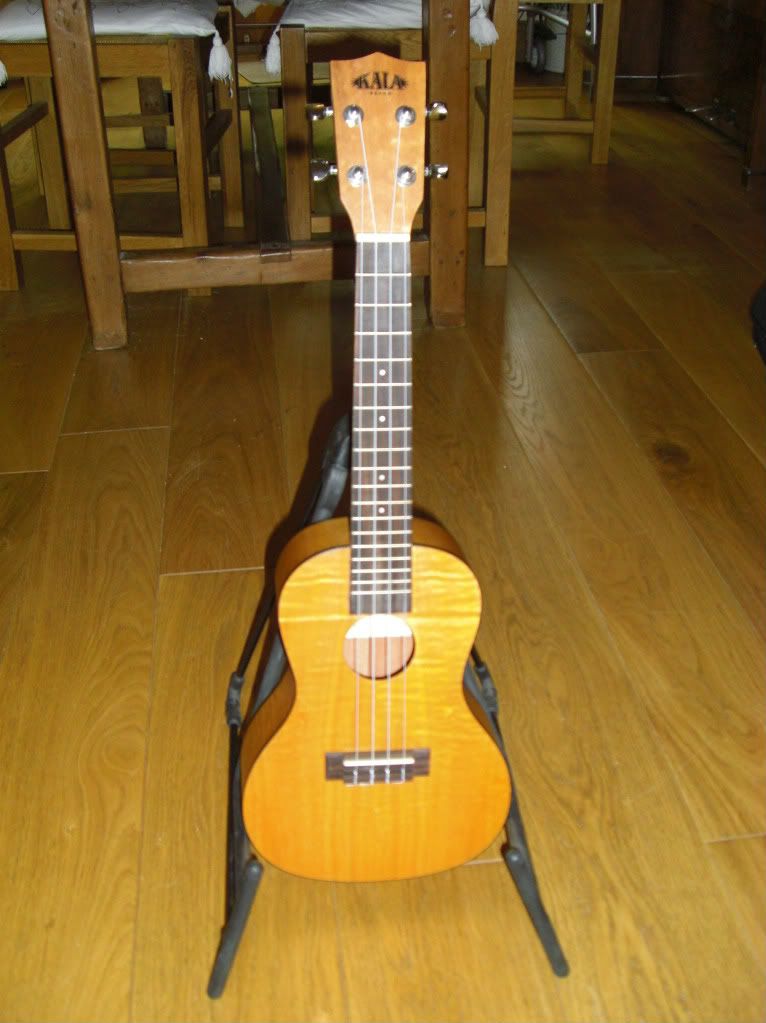 And here's the baby of the family, my little Kala Uke. I bought this to do just one song, Joe Brown's version of "I'll see You In My Dreams" that he done at the end of the Concert for George Harrison. A beautiful song that really makes me smile. In reality it sounds like every other Uke but unlike many others, holds its tune well!
And this is me and Maz are fortunate enough to live. This is a view of our cottage from the other side of the lake. We're lucky enough be surrounded by fields on all sides so I can turn my amps up as loud as I like without annoying anyone!
Jerry
Live the life you love, love the life you live